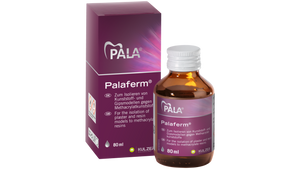 Good insulation is the basis for a precisely fitted prosthetic restoration.
Palaferm was specially developed for the insulation of acrylics and acrylic models and is also suitable for the insulation of plaster.
A single coat painted on the acrylic produces a wafer-thin insulation film which can easily be removed again manually later.
Only a single application necessary on acrylics
Rapid drying of the insulation
Formation of a thin insulation film
Protection of non-polymerised material from external influences
Insulation film can easily be removed from the acrylic
Can be used for all fields of application in which methacrylate acrylic applied in the laboratory should be insulated against acrylics, acrylic models, CAM models, acrylic crowns etc. and against plaster and a precise separation effect as a result of a thin insulation film is required.
E.g. production of splints, drilling templates, framework models with modelling acrylic.