About K-Lab
K-Lab is an innovative business offering 3D printing solutions for the dental industry and many other applicable industries and 3D printing hobbies. Built around extensive knowledge of 3D printing and its applications, as well as digital dentistry and digital dental technology, K-Lab aims to offer you the highest quality products for the lowest possible price. This includes 3D printing resins, grinding and milling burrs, handpiece burs, milling discs and more. K-Lab also offers printer servicing for Formlabs printers and local support for all 3d printing and digital dentistry applications.
3D printing has revolutionised so many industries by offering innovative, customisable and accessible solutions. One of its many benefits is that it can be used at all levels, from domestic, through to commercial and industrial. As the entry cost for the printers and materials go down, the application and usage opportunities for 3D printing goes up. At K-Lab we strongly believe that 3D printing should be available for all, so our mission is to find the highest possible quality of goods, for the lowest possible price.
3D printing in the dental industry
For dentistry in particular, the introduction of 3D printing as a technical solution has created hyper customisable solutions that can meet the exacting needs of any dentist, and their patients and Dental Laboratory. Traditional dental solutions are starting to be replaced by new technology, which is leading to incredible treatment benefits and outcomes. We are early in the adoption curve for 3D printing in dentistry and exciting advancements in the technology are occurring all the time.
The number of manufacturers for 3D printers is relatively small and, in almost all cases, these manufacturers recommended to only use brand aligned products for 3D printing dental applications. This has meant that businesses have had a limited range of products to choose from and they can be cost prohibitive. K-Lab has extensively researched this issue and is proud to introduce alternative solutions that come with a lower price point, meaning that dental surgeries and laboratories can offer these new technologies for a lower cost. It also means the barrier to entry for many dentists and dental labs is lower, allowing more dentists across Australia and New Zealand to introduce dental 3D printing as a solution for their clients.
Beautiful consistant results
Engineering, Design, Prototyping

Accuracy, trueness and reliability give predictable results you can rely on.
Beautiful consistant results
Engineering, Design, Prototyping
Accuracy, trueness and reliability give predictable results you can rely on.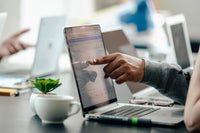 Australian Support
3D printers are relatively new to the Australian market which can place challenges on the end user with regards to support, product availability and affordable pricing solutions. K-Lab provides Australian based email support for all K-Lab resin customers. This includes set-up and training support, Digital Dental Consultation as well as Formlabs printer servicing. Please email for pricing and availability.
Formlabs Form2 Open Mode Tutorial